JAMES VISCARDI
Present Perfect
June 27 – Aug 3, 2013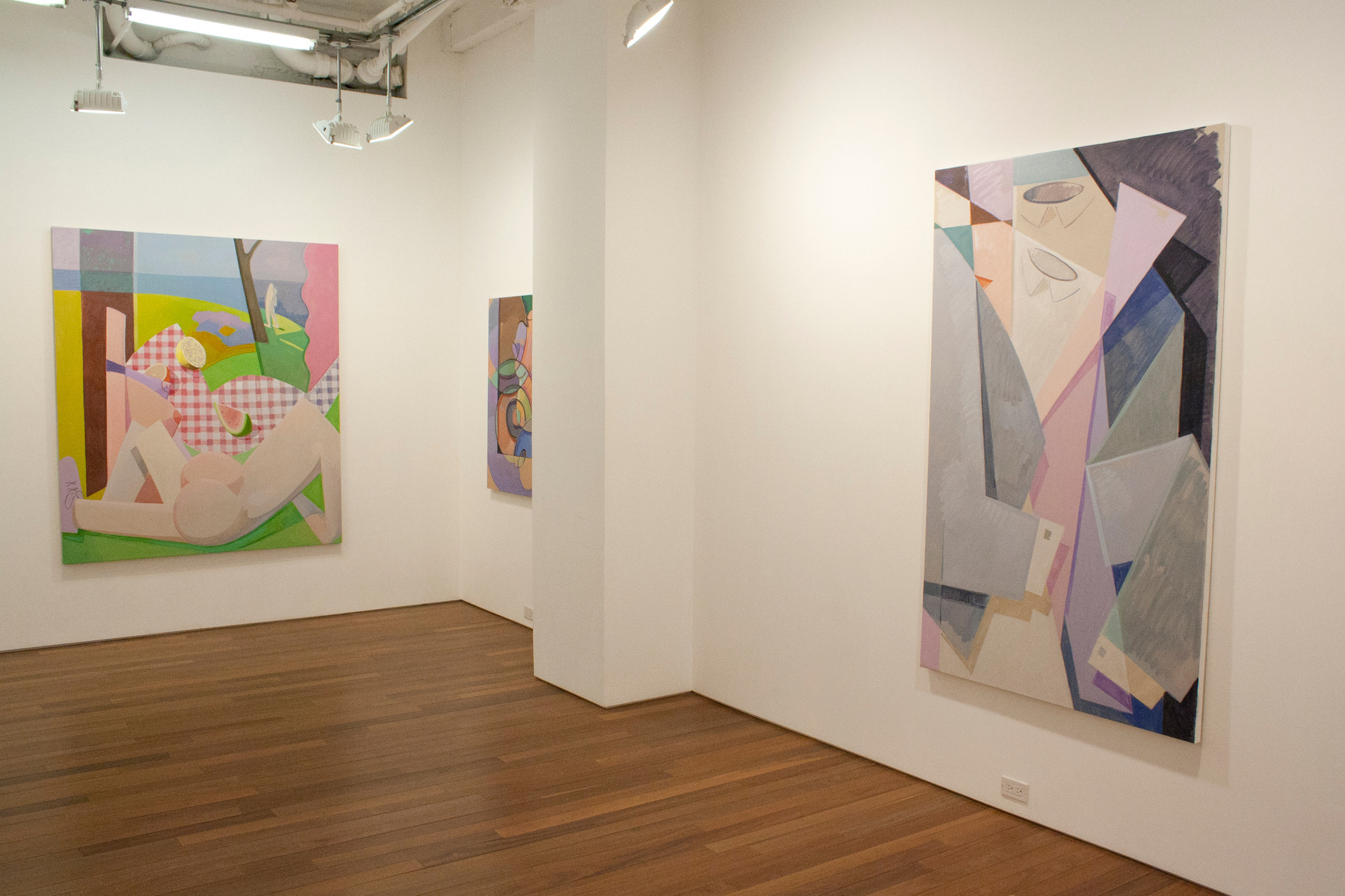 Press Release
Brothers and sisters:
Welcome to the all inclusive, immersive lifestyle brand, predicated on our twenty-first century savoire faire. We accept change with a swipe, dive head first into the as-yet-defined domestic future. Bliss! Our quest is for a blind indoctrinating love; our revolution is in an anti-oxidant room-spray. It's the speed on the deli counter turned up several notches. I am the quack doctor and my prescription is skin deep, a BOGO of love and adoration. My icons are all around us like follies in a garden of earthly delights. Sins are irrelevant here. The most haunting of our demons is a delayed flight from EWR to MIA, economy.
Booby-traps have been set strategically throughout the nouveau modernist domestic theater. Trip-lines hide at the entrance to every room. They were set to keep us on our toes. They must be kept in good working order. Paintings, posters, computer screens et al. - they are interminable traps and releases. Slapstick performances to take us to the other side of the two way mirror, to our most private inner desires and aspirations. Advertisements for something we didn't even know we needed. An Impressionist future love. Look too deep and we end up right back where we started. A room full of self-portraits where nothing ever changes, save the costumes and the scripts. Sit back in this theater box and watch the drama unfold. You'll soon find yourself disappearing into the fabric, yet another thread in the meme.
The painter, the shaman, the shape-shifter. I am a collector of fragments from the past present and the future past. History is irrelevant but for its catalogue of failed experiments. Like the joke without a punch-line. Stitched together, the incongruent pieces form a patchwork; the scars where they meet are the only record of their meaning. Ideas repurposed for contemporary demands. This is the digital incubator for new ideas, a baroque smoothie of home, office, showroom, ad infinitum. And we follow, collapsing, headfirst, into the present perfect.
Please join us for the revolution. Ana Cristea Gallery cordially invites you to the induction of "Present Perfect," serving bliss from June 28 – August 3, 2013.
---------------
James Viscardi (b. 1985) was born and currently lives and works in New York. In 2011 he graduated from Royal College of Art in London with an MA in Painting, after receiving his BFA in Painting from Rhode Island School of Design in 2008. Present Perfect will be Viscardi's his first solo show in the United States.
For additional information, please contact Ana Cristea Gallery by phone at (212) 904-1100 or by e-mail at info@anacristeagallery.com. The gallery is located at 521 West 26th Street between 10th and 11th Avenues and is open from Tuesday through Saturday from 11am to 6pm.