Rx FOR VIEWING
Grant Foster and Jesse Wine


May 15 - June 8, 2014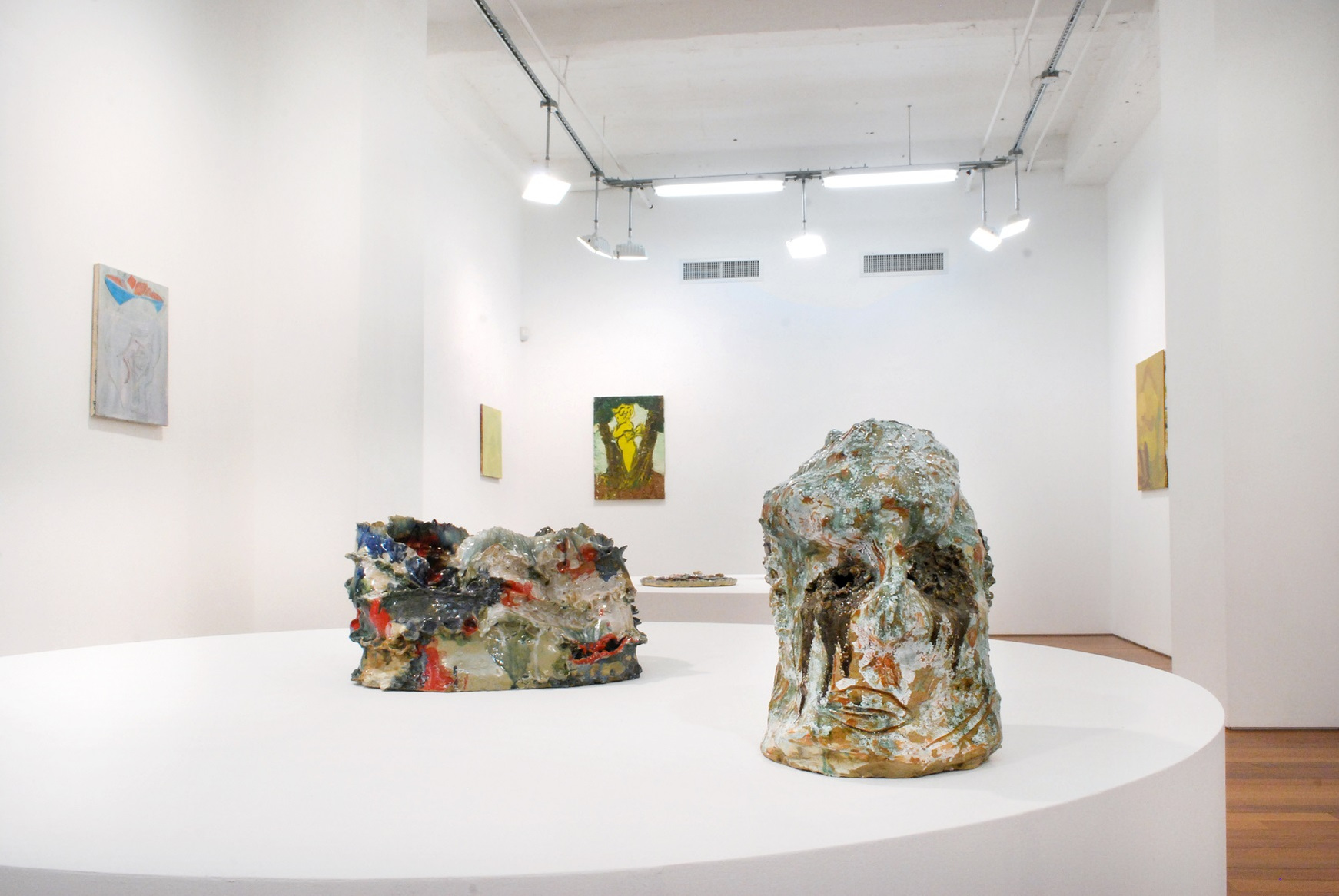 Press Release
Ana Cristea Gallery is pleased to present "Rx for Viewing", a two-person exhibition that brings together the work of London-based artists Grant Foster and Jesse Wine.
Both artists eschew the contemporary preference toward multi-media and mixed media works. Grant Foster and Jesse Wine work unabashedly in one medium: painting and ceramics, respectively. The palpable humor of the works on view, alternatingly mischievous and dark, suggests ambivalence toward contemporary culture, its feigned invocations of morality and the cookie-cutter mentality of digital reproductions. But despite the tone of satire, the works are richly textured, executed delicately, and, ultimately, with a distinct tenderness toward their subject matter.
The overall effect of the works reminds that innovation, ingenuity and value are as much about craftsmanship as presentation. The mode and method of display ought to indicate the work behind the work, rather than absolving the artist of his responsibility in the act of making. No one can accuse either artist of relying on staging as a crutch. Their works are indeed outward facing productions, but the skill that endowed the works with relevance is clearly manifest.
Grant Foster's rich, thickly painted canvases depicting phantasmagoric children reference the tropes of Romantic painting, particularly William Blake's engravings and illustrated manuscripts. With the child installed as a central motif, his characters resume a weary role as emblems of morality. In the contemporary context, they suggest hysteria, mania and a fear of the outsider. Grant allegorizes his portraits, simultaneously sublime and macabre, sincere and sardonic. Grant Foster (b.1982, Sussex) completed a MA in Painting at the Royal College of Art in 2012 after receiving a BA in Fine Art at the University of Brighton. Foster was a prizewinner at John Moores 25 in 2008 and received the Leverhulme Bursary in 2010. In 2013 his work was part of Bloomberg New Contemporaries at the ICA in London and at Spike Island, Bristol.
Jesse Wine relies on traditional materials and construction methods to anthropomorphize his ceramic figures. Equal parts irreverent totem and satirical object, his sculptures offer the complexity of real-time. With the question of material determined as a prerequisite for each piece, the ceramicist begins with how to execute a series of ideas (as opposed to with what). Wine says the actual making process leans on the alchemy of the firing process. Jesse Wine, (B. 1983, Chester) graduated from Royal College of Art in 2010 after receiving his BA in Fine Art from Camberwell College of Art. Recent solo and two person shows include Mary Mary Gallery, Glasgow; Oriel Mostyn Gallery, Wales (2014); CO2, Rome (2013) and Limoncello, London (2012). Wine has also participated in shows at Wysing Arts Centre, Cambridge UK; Kate Werble Gallery, New York (2014); SPACE, London; V22 (2013), London; Frutta, Rome; Peles Empire, London (all 2012). Wine is currently the ceramic fellow at Camden Arts Centre 2014.