SPOOL
Andrew Graves, Marco Palmieri, Neil Rumming
February 14 - March 17, 2014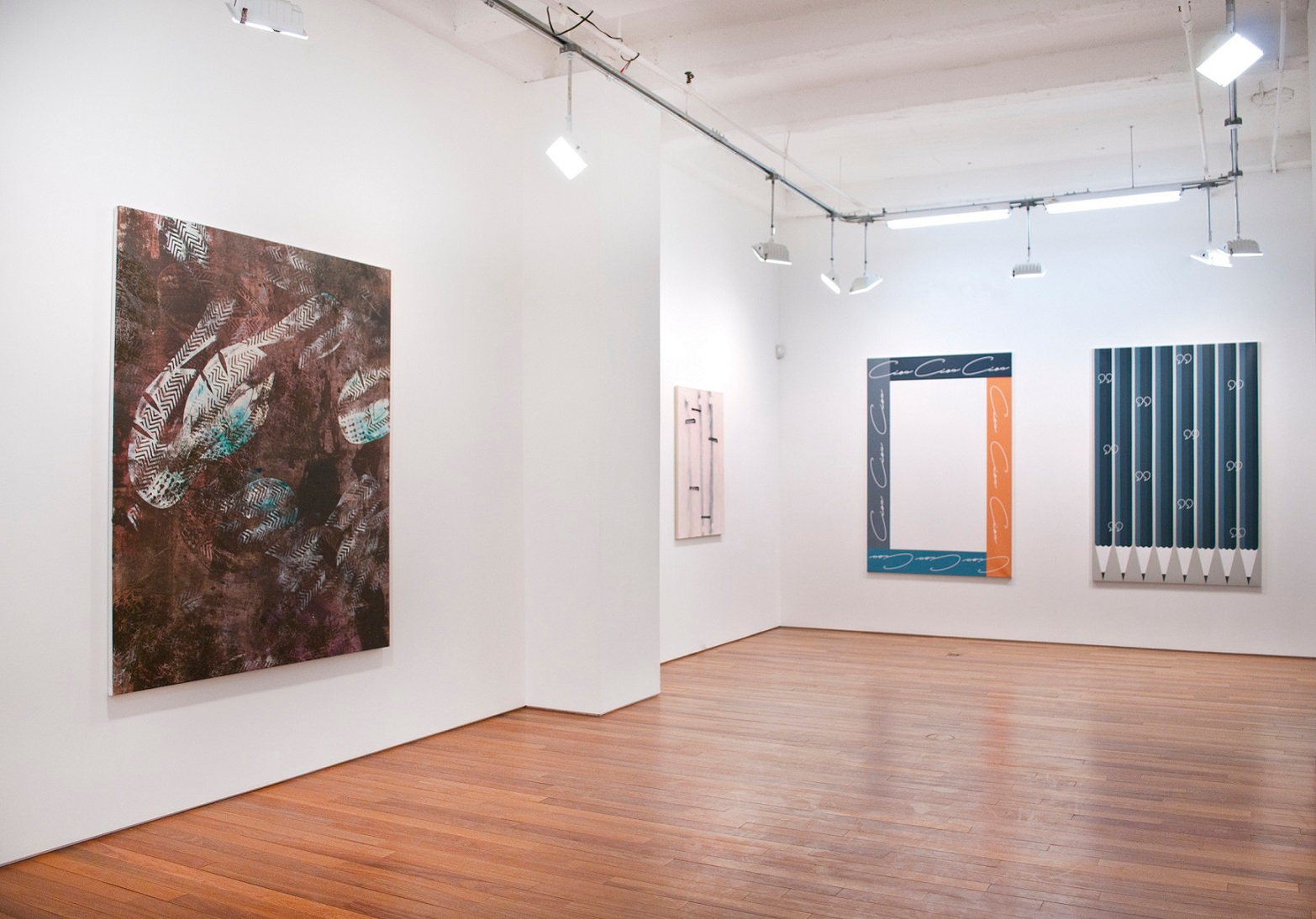 Press Release
Ana Cristea Gallery is pleased to present "Spool" a group exhibition that brings together the work of Andrew Graves, Marco Palmieri, and Neil Rumming. Together, these works operate on a continuum, creating a new frame of reference for post-war attempts at attacking those "big" things like color, space and gesture. Each of these artists enter into this ongoing discussion without reverting to a language that has been previously carved out for them; instead they bring a distinct visual lexicon to their work through the very act of questioning painterly language.
Andrew Graves makes his own paint; yet he's not necessarily the kind of painter that makes his own paint. While some may look at Andrew's paintings and say "I could've done that", a painter may instead say "I wish I could've done that." Andrew's work reminds us that time in painting is something to be re-negotiated with each unique experience of looking. His paintings, often comprised of one color and sullied with another seemingly rogue color, are deceptively sophisticated, their size and quietness belying their confidence. These are intensely seductive paintings, if you want it. Andrew Graves (b. 1967, England) lives and works in London. Recent solo and group exhibitions include Summer Show, Lion and Lamb Gallery, London (2013); Andrew Graves, Studio 1.1 Gallery, London (2012); The Curator's Egg, Altera Pars, Anthony Reynolds Gallery, London (2012); The Perfect Nude curated by Phillip Allen and Dan Coombs, Wimbledon Space, toured to Phoenix Gallery, Exeter (2012).
Simultaneously sincere and flippant, Marco Palmieri's paintings seem to pilot us through a private poetry of nostalgia even while adopting overly familiar iconography and motifs. The artist's signature brush stroke is replaced by an elegantly rendered Ciao and quotation marks, echoing in endless repetitions. With a lightness of touch and gesture, they carry a silence that is fleeting in its weight. Marco Palmieri (b. 1984, USA) lives and works in London and Rome. In 2011, he graduated from the Royal Academy Schools. Previous solo shows include Marco Palmieri, Frutta Gallery, Rome (2014); Living Rooms, Hobbs McLaughlin, London (2013) and Weekend, Margini Arte Contemporanea, Massa, Italy (2012). He has also exhibited in The Instability of the Image, Paradise Row, London (2013); Jack Lavender, Oliver Osborne, Marco Palmieri, The Approach, London (2012); Bloomberg New Contemporaries 2011, S1 Gallery, Sheffield and the ICA, London (2011).
Neil Rumming's absurdly massive footprints point to a recent tendency among young painters to explore the detritus of their studio floor, highlighting a process that is messy, that values failure, and that turns the process in upon itself. Yet Rumming's works are not messy at all and his footprints surely not made by a foot. By incorporating pigment ink prints of mass-produced items, often in disconcerting proportions, Rumming's work explores our conceptions of value in painting and the contemporary dilemma of choice. With the precision of an editor, he builds up and repositions these mundane objects and their allusion to industry to affect a new form, and to point us to where a new language might be had. Neil Rumming (b. 1973, Somerset) lives and works in London. Recent solo and group exhibitions include OBJECTNESS curated by Peles Empire, OUTPOST, Norwich (2013); Signs and Messages II, Kate MacGarry Gallery, London (2013); Hausfrau, Cole, London (2013); Studio Voltaire 12 (Selected by Mike Nelson and Jenni Lomax), Studio Voltaire, London.
Some Thoughts on Painting, by a Painter (Shaan Syed, 2014)
This might be labeled a show that witnesses smart painters being dumb, or dumb painters being smart. I'm more inclined to ask if there is such a thing as dumb intelligence? Painters are often outsmarting themselves and, as a result, begin a process of unraveling thought, a peeling back of the layers of an onion until all one's left with is fake tears. Christopher Wool's current ubiquity makes it painfully obvious that "gesture" - a motion intrinsic to painting through the very act of holding a brush laden with paint - has become filtered, mediated. Yet the desire to make or leave a gesture as sincere as a Franz Kline swathe or a Cy Twombly scratch is somehow still of vital importance to the painter. Or at least, the need to confront this desire is a concern. And I suspect it's not simply a boxing match with history that's happening here. Yes, painting may be dead, and I'm quite comfortable with this, but it's kicking out from under its own surface. The nature of making, of building, of putting paint to surface wouldn't be so much fun if it didn't require a kind of backwards trek (often made while facing forwards), stumbling over what the painter is "expected" to make. Taste, style and recognizability are anathema to the artist, yet balm to the collector. Beautiful paintings become ugly and ugly paintings become beautiful. If language is a system that names and describes, perhaps we can say that a painting that shows us what is not there is the most articulate kind of communication.
Anton Newcombe, the self-proselytizing front man of the notoriously dysfunctional west coast indie band, The Brian Jonestown Massacre, sings; "There's a look on your face and it says you've been had". If there's any criticality left in looking now, I suspect this is where it may lie. Uncovering truths means also dealing with lies. But what exactly is "being had" if having (according to Lacan) is also about losing? How can loss be located if the nature of painting is such that one begins by applying paint rather than by taking it away? Other methods must be employed – methods that are perhaps attempts at getting behind, under or around painting's surface. If part of a painter's goal is to carve out an intimate visual language from painting's history, then what is a painter to make of this 20-year young relationship with touch, presence and place? Should we look again or is it a matter of seeing anew?